FrenetiCore needs your help. We have had to temporarily close our theater to make necessary improvements. This will leave many local artists without a place to perform in the coming months, so the sooner we can re-open our doors, the better.
You can help!
There are two events coming up that will benefit FrenetiCore and the Frenetic Theater. Read on: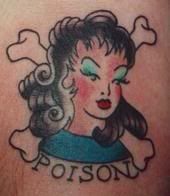 'DRINK
HOUSTON
BETTER'
at Poison Girl, this Sunday (August 5th) beginning at 6pm. Get your drink on while you watch highlights of our past filmic dance performances--plus you can bid on an awesome art auction, buy personalized songs composed by Robert Thoth, get chair-massaged, and eat delicious homemade treats! All the proceeds will be donated to FrenetiCore. It's arguably the easiest way you can help support the arts in
Houston
and ensure that your favorite multimedia dance company can continue to perform for you.
'DRINK
HOUSTON
BETTER for FrenetiCore' Details:
Where:
Poison Girl,
1641 Westheimer, Houston, TX 77006
.
When:
Sunday, August 5th, 6pm until they kick us out.
How much:
As much as you want!
For more information:
713.449.8375
,
myspace.com/freneticore
And...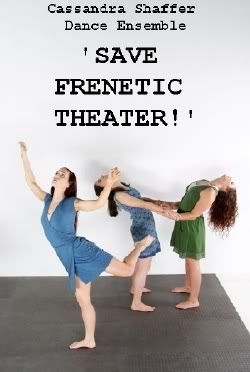 If you're not a big drinker, but love watching dance, come to 'SAVE FRENETIC THEATER!,' Cassandra Shaffer Dance Ensemble's benefit/dance performance on August 11th (1pm) and August 12th (8pm) at Hope Center. The Ensemble will present an eclectic mix of dance performances (including modern and contemporary dance, ballet, multi-media, and spoken word), and a light reception of food and drink will follow. All proceeds go to the Frenetic Theater. This performance is family-friendly, so you don't need to find a sitter for the kids.
Cassandra Shaffer Dance Ensemble's 'SAVE FRENETIC THEATER!' Details:
Where:
Hope Center, 1210 West Clay #26 (Entrance on Van Buren),
Houston, TX 77019

When:
Saturday, August 11th at 1:00pm; Sunday, August 12th at 8:00pm
How much:
A minimum donation of $8.00
Reservations:
832.275.4030
or
cassandra@cassandrashaffer.com
For more information:
myspace.com/cassandrashafferdance
Hope to see you at one or both of these events!
- FrenetiCore Dance Theater
---
Luggage? GPS? Comic books?
Check out fitting
gifts for grads
at Yahoo! Search.